Georgia On My Mind: IRD Delivers Insight for Better Emergency Management

Published by
Peter Fedechko - VP North American Sales
The Georgia Department of Transportation (GDOT) is a long-standing customer of International Road Dynamics, procuring systems for use by the Georgia Motor Carrier Compliance Division (MCCD). They make use of our Weigh-in-Motion (WIM), License Plate Readers (LPR), USDOT cameras, video cameras, changeable message signs, and the local fiber optic network at 19 mainline & ramp weigh stations. Local devices are controlled through our iSINC roadside controller, enforcement is achieved through the use of local and virtual weigh station applications, and our web-based iAnalyze back-office software provides data reporting and analysis.
Value Beyond Commercial Vehicle Enforcement
Recent experience during evacuation activities associated with Hurricane Irma highlighted the value of this infrastructure beyond commercial vehicle enforcement. MCCD was able to make use of traffic monitoring data on a networkwide basis that made a significant contribution to insight and understanding of traffic conditions during the emergency evacuation.
While Georgia's original investment in IRD solutions was focused on monitoring and management of commercial vehicle traffic, it became obvious during emergency evacuation activities for Hurricane Irma that this same solution can be of considerable value by providing traffic monitoring data in emergency situations.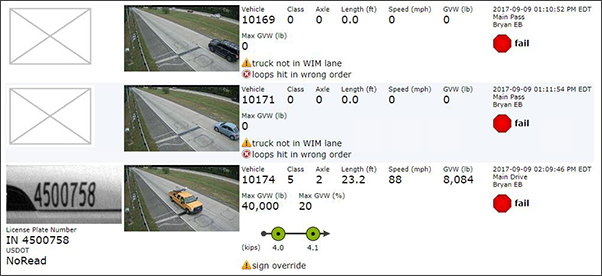 Contraflow Traffic Captured by IRD's Virtual Weigh Station Software
Real-time Traffic Data for Rapid Response
IRD's ability to provide real-time, lane-by-lane traffic monitoring data enabled Georgia's MCCD to obtain information for both internal and external purposes. Internally, information on road user behavior provides valuable input into the evaluation of emergency management strategies and fine-tuning future activities. Externally, the data feed supports effective communications with external stakeholders including the press and the public. This enabled MCCD to communicate current traffic conditions and make full use of the power of the media.
Baseline Traffic Data is Valuable in an Emergency Situation
One of the interesting aspects of the IRD solution lies in the ability to compare emergency management conditions to routine, historical conditions. Thanks to Georgia DOT's widescale investment in IRD solutions at 19 locations, they could take a networkwide approach to contrasting traffic conditions observed during the evacuation activity against regular network conditions from historical data. This provided an important lesson in the value of retaining and managing traffic data. A well-managed repository of data enables such baselining activities and other before and after studies to be conducted over any period for which the data has been retained. An ability to process data beyond the collection time increases flexibility in the range of questions that can be answered later.
Designing for Flexible Reporting
The experience also highlighted IRD's comprehensive approach to solution design. Certain features of the IRD solution that were not originally part of client requirements could be turned on in retrospect to provide additional flexibility in reporting. IRD goes beyond the delivery of minimum requirements to develop industry-leading and best practice solutions. This flexibility allowed Georgia DOT to make use of the IRD solution for three phases of emergency management – preplanning, emergency event operations, and post-emergency evaluation.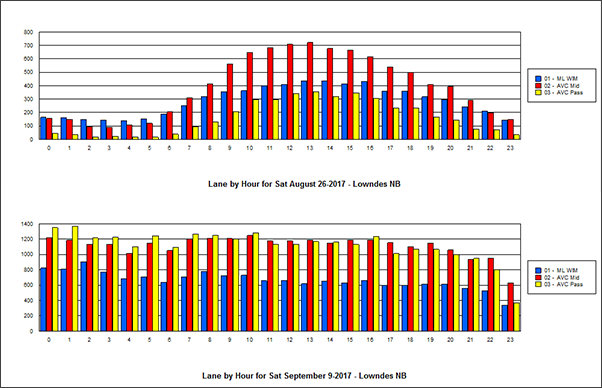 Comparison of Traffic Volume Before and During the Evacuation
The ability to analyze the archive of historical data provided valuable input into the preplanning process which involves decision-making on resource placement and operational strategies. The ability to see current traffic conditions at a moment's notice also provides excellent support for monitoring the effectiveness of strategies and changing traffic patterns under emergency evacuation conditions. An excellent example of this was MCCD's use of the IRD solution to monitor contraflow operations during the evacuation. The ability to monitor traffic conditions reduced staffing requirements and provided excellent decision support on when the contraflow operations should be discontinued, based on traffic conditions
The IRD solution also provides support for fine-tuning future strategies based on practical experience during live evacuation conditions.
Good Data Provides Excellent Decision Support
This customer experience provides an excellent example of how good data can provide excellent decision support. The ability to collect and retain relevant data provides critical insight and understanding when emergency conditions must be managed. IRD's ability to support data collection, the conversion of data into information, and the extraction of insight and understanding, culminates in strategies and responses that provide practical value to clients. This provides a great example of IRD's philosophy of delivering value for money to clients by providing flexible solutions that go beyond data collection and integrate into the business processes that turn data into value.
IRD continues to provide world-class solutions for CVO monitoring and management that can be enhanced and expanded into wider traffic and transportation monitoring roles. Our wider vision includes the use of our solutions for networkwide monitoring that will provide input into the complete spectrum of transportation service delivery from planning, through design, to operations and maintenance. Working together with our clients, we can use our knowledge and expertise to increase safety, improve efficiency, and deliver enhanced user experiences to travelers and to transportation network operators and planners. In future, we expect to place even more emphasis on tools and techniques to reveal the trends and patterns that lie within the data. Our new VI²M™ product line will provide immediate support for this and is scalable to provide other services in the future.
Download the case study: Georgia DOT Traffic During 2017 Hurricane Evacuation