IRD Paved the Way for Roads of the Future

Published by
Vivien Varga - Product Development Intern
After starting my eight-month student internship at International Road Dynamics (IRD) Inc. I became interested in understanding the relationship IRD and Long-Term Pavement Performance (LTPP) program have with one another. Through conversation with Dr. Art Bergan, IRD's Founder and former Chairman of the Board, I have been able to do just that. IRD has been involved with the North American LTPP program since it's inception in 1987. Originally operating under the Strategic Highway Research Program (SHRP), IRD, along with other highway agencies and researchers worked together to monitor, record, and evaluate the performance of pavement sections. This information allows LTPP to understand how and why pavements perform the way they do, and to provide data and products that extend pavement life at a reasonable cost.
As this data is highly significant to the Federal Highway Administration (FHWA), a national pooled fund study was established to increase the quantity and quality of traffic data to support analysis projects. These studies include General Pavement Studies (GPS) and Specific Pavement Studies (SPS). Since 1992, the FHWA Office of Infrastructure Research and Development has assumed responsibility for the program in cooperation with the American Association of State Highway and Transportation Officials (AASHTO), the National Academy of Science, and State Highway Agencies.
To understand pavement performance, it is necessary to have accurate and reliable traffic monitoring data – specifically classification and weight data. Therefore, the Weigh-in-Motion (WIM) equipment utilized must be of high quality, installed properly, and routinely monitored and maintained. Long-term reliable operation and data quality are pertinent to the studies. IRD followed through on these areas maintaining an in-depth level of knowledge of high-quality WIM equipment. As a result of IRD's leadership in the WIM marketplace IRD was selected as the Phase II contractor in 2004.
According to Dr. Bergan, "This was a very significant contract for us in 2004. It was a very prestigious contract to be selected for as accuracy and reliability are the major factors of the program."
As the Phase II contractor, IRD was tasked with the provision, installation, maintenance, service and support of high-quality WIM equipment for the LTPP program. IRD assumed responsibility for data collection, quality control, and weekly submission of traffic data from the Phase II sites to the LTPP regional support contractors for further quality assurance and processing.
The initial project involved IRD WIM installations at the following Specific Pavement Studies (SPS) test sections:
SPS-1 (structural factors for flexible pavements)
SPS-2 (structural factors for rigid pavements)
PSS-5 (rehabilitation of Asphalt Concrete pavements)
SPS-6 (rehabilitation of jointed Portland Cement Concrete Pavements)
The first IRD Phase II contractor WIM site was installed at the SPS-6 site in Illinois, and went on-line collecting data August 15, 2005. After three years, IRD completed installations at 18 additional locations throughout the U.S.
By 2010, IRD was working with LTPP to pilot overview image capture at the SPS-5 WIM site located in Maryland to enrich the research quality data that was already being collected. IRD provided the IRD iAnalyze®7 software package to process this data and allow for correlation with these images. After two years, this capability was added to two additional WIM site locations under this study.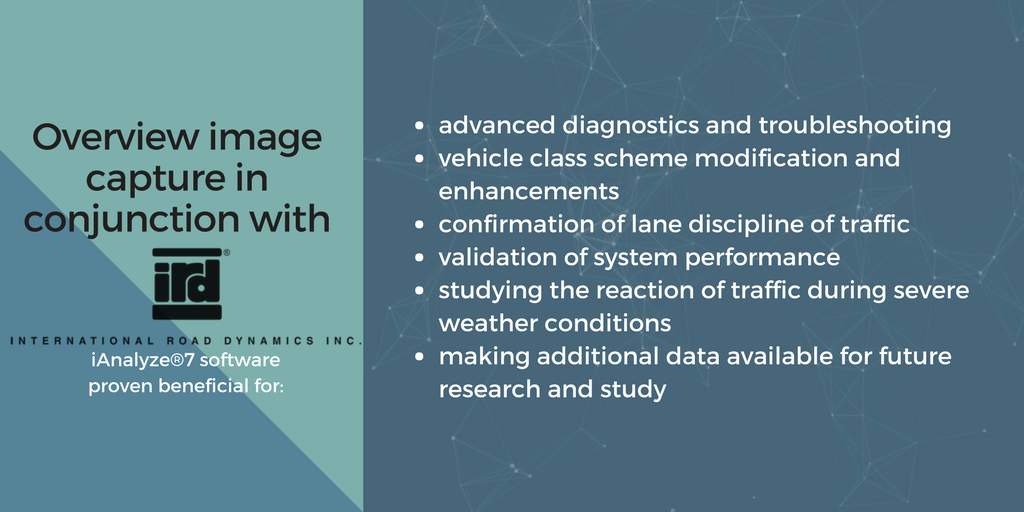 Most recently, IRD has been working with LTPP on plans to collect WIM traffic data at select SPS-10 WMA (warm-mix asphalt overlay of asphalt pavement) site locations. The first IRD WMA WIM site was installed at the Texas SPS-10 location and went on-line collecting research quality traffic and weight data as of June 27, 2016. By the end of 2017, IRD completed installations at three additional WMA site locations and has been contracted to install two more sites in spring 2018.
It is at SPS sites like these where IRD collects and disseminates research quality data to pavement engineers who will then translate this data into valuable tools and beneficial procedures. The FHWA estimates that billions of dollars have been saved due to the increase in pavement design life made possible by the program. This is not without the assistance of IRD and other highway agencies' collaboration over the past 31 years with LTPP.
IRD continues to provide LTPP ongoing support through installations, maintenance, data collection, such as image capture, and quality control. Many of the sites installed by IRD are still in service and have provided over ten years of research quality data for LTPP. This data is available through the programs web-based portal, LTPP InfoPave™. Electronic information collected from 2,509 pavement test sections can be searched. Extensive data analyses and documents for many of the LTPP's experiment design, data acquisition, quality control, and data dissemination are also on the portal.
IRD has worked closely with the LTPP program over many years improving the reliability of the data produced from the program to make sure it is very useful and furthering the design of the new facilities. IRD is proud to be part of the LTPP team and to have the opportunity to work closely with many of the organizations and other contractors involved. Stay tuned on social media as IRD looks forward to sharing an update on the new sites in the near future. Tweet us @IRDInc1 an example of how LTPP has benefited your agency in developing your highway system.
---
Download the case study: LTPP (Long-Term Pavement Performance)