Reliable Mobile Enforcement

Published by
Scott Sherwood - Operations Production Manager – IRD PAT Traffic
For mobile enforcement programs to succeed, agencies need to equip their officers with scales that offer a combination of precision, ruggedness and maneuverability.
Portable scales have to operate well in challenging, exposed conditions and stand up to being driven over by heavy trucks while maintaining the accuracy required for weight enforcement. A broken scale is no use, and a scale that doesn't maintain calibration cannot be relied on to provide fair weights that justify citations.
A strong reputation for durable scales
IRD has served commercial vehicle enforcement agencies for many years and we know their requirements well. From the beginning, SAW scales have had a strong reputation for reliability among enforcement agencies. The latest version of IRD's SAW portable wheel load weigher, the SAW III, is the most advanced portable scale ever offered by IRD. Field-proven and extremely durable, IRD's SAW portable scales are a mainstay in commercial vehicle enforcement and also see use in the construction, agriculture, and forestry industries. The SAW III is certified against NIST Handbook 44 and OIML R76 standards, making it suitable for commercial vehicle enforcement worldwide.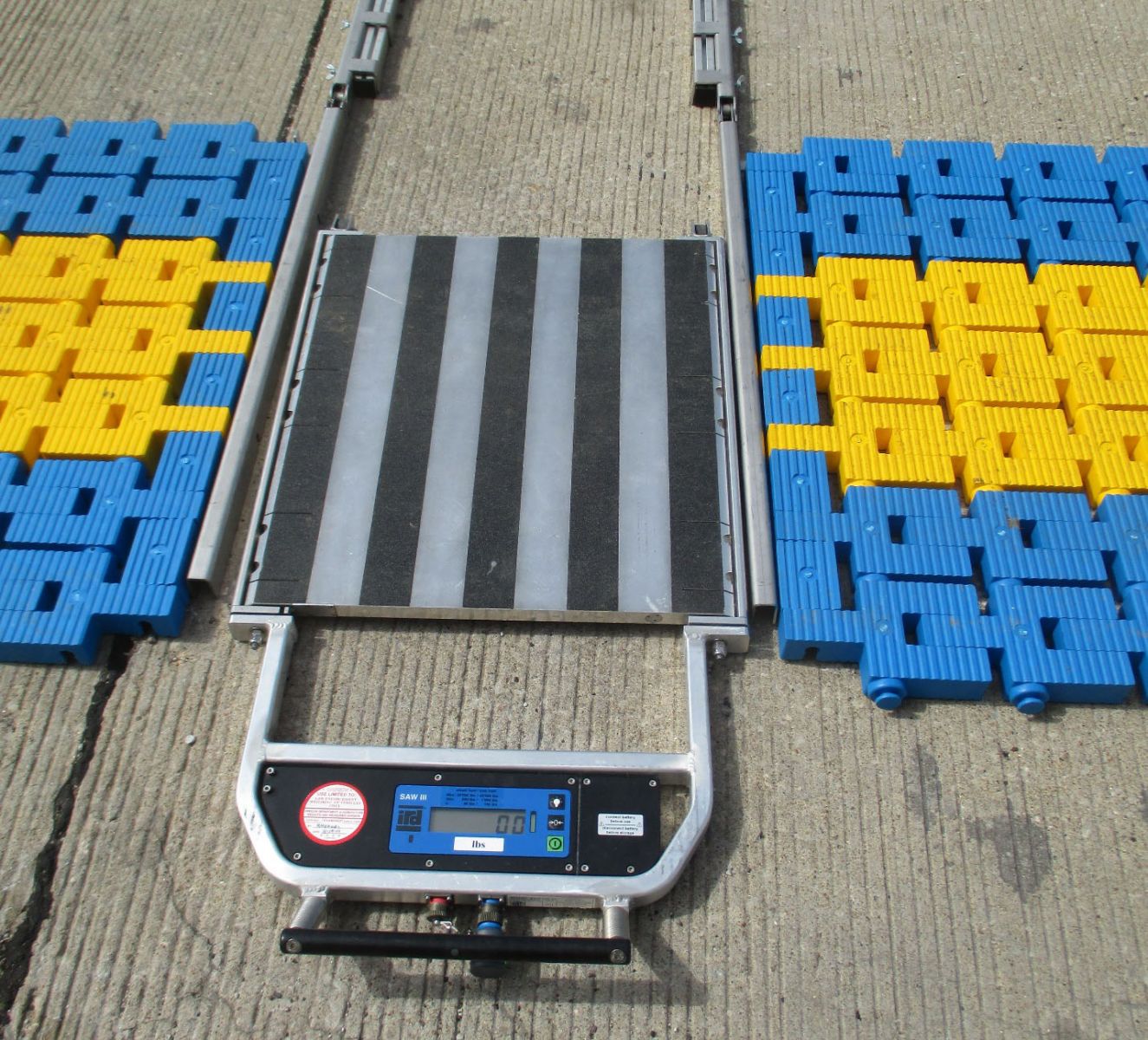 A SAW III Scale Equipped with a Flex Frame and Mats
The SAW III is quicker and easier to set up than prior models due to the addition of wheels and an ergonomic, flexible handle. A flex frame is another new feature of the SAW III and allows operators to adjust for varying track width as axles are weighed along the length of the truck. LED charge indicators and a longer-life battery pack ensure the SAW III won't run out of charge during weighing operations. The new mats for the SAW III are very durable and stay in place better than competing products that can bunch up if a truck drives over them too fast.
Static and dynamic weighing options
The British Columbia Ministry of Transportation's Commercial Vehicle Safety & Enforcement (CVSE) branch purchased some of the first SAW III portable scales in Canada for a temporary weight inspection application near Terrace, BC. For this use, CVSE selected a model that is capable of both static and dynamic weighing and connects to CVSE in-truck laptops via Bluetooth. The SAW III model selected by CVSE is capable of both low-speed screening and enforcement weighing in static mode.


British Columbia CVSE Portable Weigh Station Near Terrace, B.C.
The SAW III model is the first SAW scale with a faster analog-to-digital converter that enables weigh-in-motion functionality out of the box. With IRD's user-friendly software, it is possible to efficiently pre-select overloaded trucks using the SAW III's dynamic mode. For this application, the scales are used with mats or placed in shallow pits. When the vehicle drives over the scales at a slow speed (up to 6 mph/10 kph), the weighing result (wheel/axle weights and gross vehicle weight) is displayed on a computer connected via Bluetooth.
Ease of use for portable weight enforcement
Another agency that uses SAWs for enforcement is the New Brunswick Department of Public Safety. New Brunswick uses a time-tested, simpler process for weighing commercial vehicles, which is less reliant on the technology capabilities of the SAW system. Instead of connecting to the scales with a cable or wirelessly, readings are taken visually from the scale displays.
The New Brunswick officers have used SAW II 10C model scales in their commercial vehicle weight enforcement program for over 25 years. Remarkably, the SAW scales have proven to be so durable that the same scales have been used in their program for all of that time. The scales are subjected to daily use, year-round, in all sorts of weather – a testament to the reliability, ruggedness, and durability of the SAW Wheel Weighers.
The New Brunswick Department of Public Safety's 70 commercial vehicle enforcement officers operate 17 mobile enforcement units. The officers conduct commercial vehicle safety inspections and enforce provincial weight and dimension restrictions to ensure the protection of many miles of thin, chip-sealed backroads in a province with an active logging industry and many transport trucks on the road.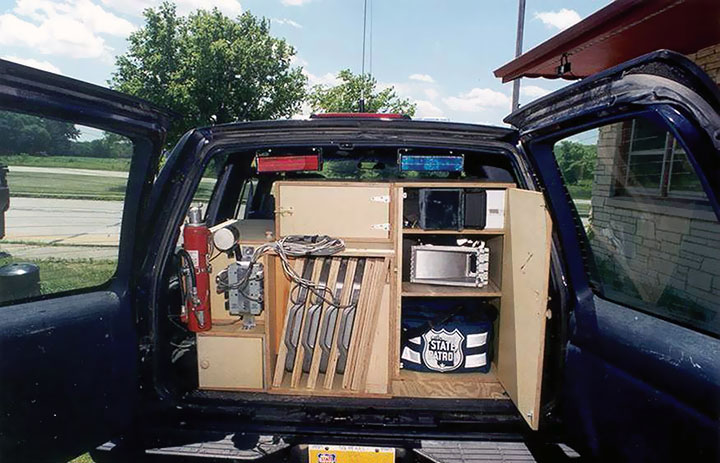 A Well-Organized Rack in a Mobile Enforcement Vehicle
The scales – there are typically eight per unit – are transported and stored in custom SUVs or vans. When not in use, the scales are connected to a charger to ensure reliable operation for a mobile unit's daily shift.
The remarkable durability of the scales used in New Brunswick is paralleled by the experience of other agencies that selected SAW scales for their enforcement programs. Fortunately, the newest model, the SAW III, retains the same durable weigh pad design.
Mobile weighing units in the United States
A number of US states have made the SAW scales their primary portable weight enforcement tool, including Illinois, Alabama and North Carolina.
In Illinois, hundreds of SAW scales are used for enforcement by the Illinois State Police (ISP), Illinois Tollway and Municipal governments. Typically, SAW scales are used for rapid static weighing in Illinois. Mobile enforcement units are equipped with 4-6 scales and used as wheel load weighers. The durability of the SAW scales has been a positive feature in Illinois where the state agency has been able to pass older models on to the municipalities as they update their mobile enforcement units with SAW III models.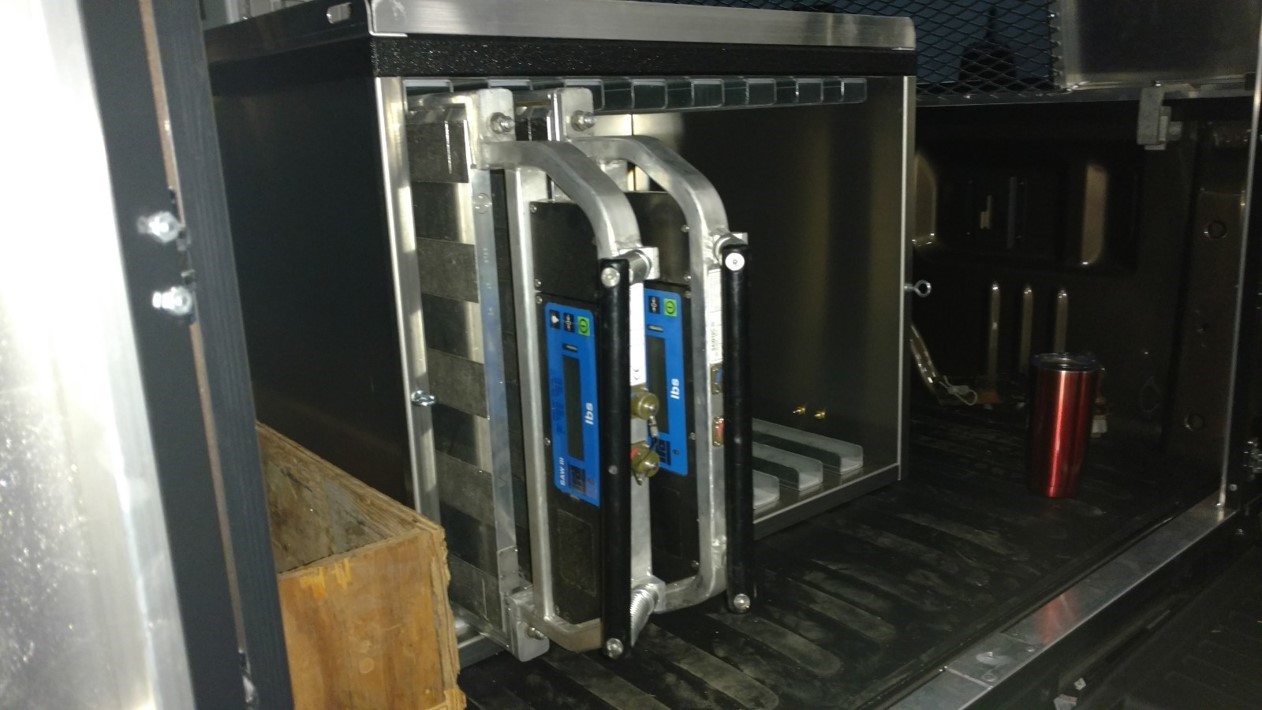 SAW III Scales in an Illinois Mobile Enforcement Unit
In Alabama, mobile units carry six scales. The officers make use of a feature of the SAW III scales that allows them to be paired using Bluetooth so that wheel weights are added together to provide a total axle weight on the scale display. This enables enforcement officers to walk along one side of the vehicle and read axle weights from one side of the vehicle, making the process safer and more efficient.
North Carolina State Highway Patrol officers have used SAW scales in their Commercial Motor Vehicle Enforcement (CMVE) program for many years. Recently, they added a set of the newest SAW III model scales to the program. They use the scales exclusively for static weighing for weight enforcement purposes.
Designated pullouts and mats
Using the SAW III scales on designated pullouts with mats allows for faster, more efficient enforcement weighing than typical mobile weighing setups where officers need to place scales in position for each vehicle. Selecting the SAW III model with longer handles and optional flex frame ensures minimal scale movement while offering the flexibility to adjust the scale to the vehicle's track width should it be necessary.
At North Carolina sites, officers connect to the scales using Bluetooth and use IRD's software to view the axle weights and gross vehicle weights. The weights can also be read off the LED display on each scale. If the truck is overweight the officer can print the weights from the software to a compatible thermal printer and use the information to issue a citation at the roadside.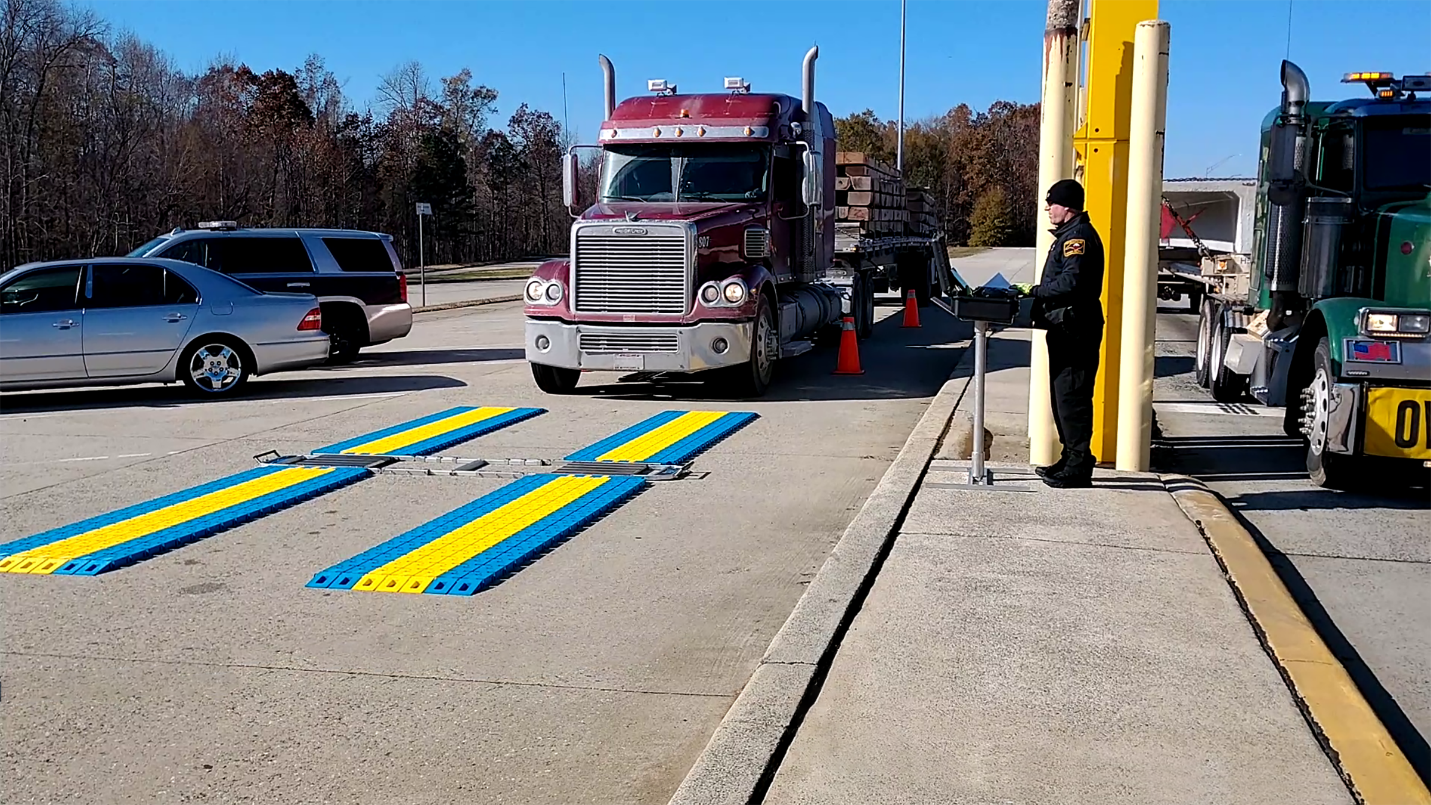 Efficient Enforcement Weighing Using SAW III Scales
SAW III vs SAW II
Specifications
SAW III
SAW II*
Connectivity Options
Bluetooth
Cables (UniMUX multiplexer)
Weigh-In-Motion
±3% or better
(up to 10 km/h or 6.2 mph)
Not Available
Scale Weight (10C, 15C Models)
20.2 kg (44.5 lbs)
21.5 kg (47.4 lbs)
Max. Vehicle Weight (15C Model)
15,000 kg (30,000 lbs)
15,000 kg (30,000 lbs)
Batteries
Rechargeable battery pack
Rechargeable batteries (6)
Estimated Battery Life
16 hours (LCD backlight on)
25 hours (LCD backlight off)
10 hours+
* The SAW II models are no longer available for purchase but are still supported for repairs and replacement parts.