Weaving the International Road Dynamics threads into the fabric of a Smart City Program

Published by
Bob McQueen - Advisor, International Road Dynamic
Smart cities have become an important topic in transportation. In fact, smart cities are a banner for the application of advanced technologies in urban areas. While smart cities go beyond transportation and cover applications like smart electricity grids, smart places to live and work, smart utilities, and government services, there is no question that transportation is inordinately important in a smart city.
Why is that? Well, for a start, approximately 28% of the energy we generate in North America is used to fuel our transportation systems. If transportation is efficient, then we will overall save energy and reduce emissions. There is also no point in having smart places to live and work if we cannot get to them, transportation fulfills a crucial role in supporting mobility and accessibility in a city.
Creating a vision for the Smart City
The smart cities program is also important from a funding perspective. The U.S. Department of Transportation (DOT) launched a Smart City Challenge in late 2015. The challenge asked midsize cities across the United States to develop concepts for an integrated, pioneering, smart transportation system that would use data, applications, products, and services to help people and goods move faster, cheaper, and more safely in urban areas. Seventy-eight cities responded to the challenge with Columbus, Ohio declared as the winner, receiving $50 million from the DOT. It is also significant that Columbus managed to attract more than $90 million in additional contributions and commitments from the private sector. Consequently, the Columbus project is worth approximately $140 million. In addition to the winner, there are now seventy-seven other medium-sized cities with a plan, confirmed objectives, and a vision for smart city transportation applications.
At the highest level, the addressable market for smart city transportation in the United States could be stated as 77(cities) × $140 million, or approximately $11 billion. Even with the private sector contributions discounted, the addressable market estimate would still be a healthy $4 billion.
In 2017, Infrastructure Canada announced a Canadian Smart Cities Challenge. This challenge is open to communities of all sizes across Canada and offers four prizes ranging from one prize of $50 million, open to all communities, two prizes of $10 million for communities with populations under 500,000 and one prize of $5 million for communities with populations under 30,000. It can be expected that this initiative will have similar effects as the U.S. Smart City Challenge, stimulating the market for smart cities across Canada.
There is an evident role for International Road Dynamics (IRD) within a smart city context considering the solutions provided by IRD and the needs of smart city transportation. Focusing on Weigh-In-Motion (WIM) solutions and IRD's recently acquired microwave sensor capability (iCOMS), let us look at how these can play an important role within a smart city initiative. Smart cities thrive on data, to identify and assess threats and opportunities within the environs of a smart city and beyond. It is essential to have great data collection capability. But data is not enough, it is also vital that the data is converted to information and then used to develop insight and understanding that can form the basis for effective and efficient transportation management strategies. The full spectrum of activities from data collection to the development of strategies can be supported by using IRD's solutions.
Weigh-In-Motion and Tire Safety Screening
Starting with Weigh-In-Motion, note that the U.S. DOT Smart City Challenge addressed the effective and efficient movement of both people and goods within the smart city. To completely address goods movement, smart cities require an effective approach to commercial vehicle compliance and enforcement – to support pavement preservation and improve mobility and safety. On the safety side, IRD has the capability with the innovative Tire Anomaly and Classification System (TACS), simultaneously, and using the same infrastructure, we can enable real-time safety evaluations on truck tire anomalies. IRD's ability to support compliance and enforcement, combined with efficient data collection provides an important thread that can be woven into the fabric of a smart city program.
Multi-use Systems
A big advantage of IRD's solutions lies in the ability to conduct compliance and enforcement activities along with data collection in a nonintrusive manner without the introduction of additional congestion and delay. The insight that the data provides in terms of truck volumes and truck movements is also an important contribution to the decision quality information required by smart city transportation service providers and planners. This is valuable to the smart city in both routine and emergency situations. IRD's recent support for Georgia DOT emergency event management during, and in the aftermath of, Hurricane IRMA, clearly demonstrated this value.
Considering IRD's microwave capability, added to their portfolio through an acquisition of ICOMS Detections, Belgium, products have extended data capabilities to address smart city intersection management. These microwave sensors can provide data to manage traffic signal timing in urban areas.
IRD offers an effective alternative to the inductive loop with its inherent disadvantages of pavement intrusion and long-term maintenance and operation costs. The data can also be used beyond this primary purpose, to be woven into a smart city data management approach, in the same way that IRD's WIM products can support multiple uses.
From Data to Actionable Information
In addition to sensor solutions, IRD's growing capability in back-office processing, critical in converting data to actionable information can form an integral part of a smart data management approach in a smart city. A smart data management approach would deliver the following:
A series of planned investments that deliver immediate and clear value, while providing the business justification for further investments
A coordinated and coherent data stream from multiple sources including sensors, and other automated sources, ingested into a single platform using advanced automation
The establishment and management of a centralized storage repository that enables data to be both shared and persisted
Support for multi-genre analytics that can be shared across the enterprise
A scalable approach that provides immediate value and benefits, while delivering a framework that is easily expandable for future needs
Support for a data market approach that enables data to be valued from a public and private perspective and provides a mechanism for a "freemium" approach to data sharing
A typical architecture for smart city data management is illustrated in the following figure: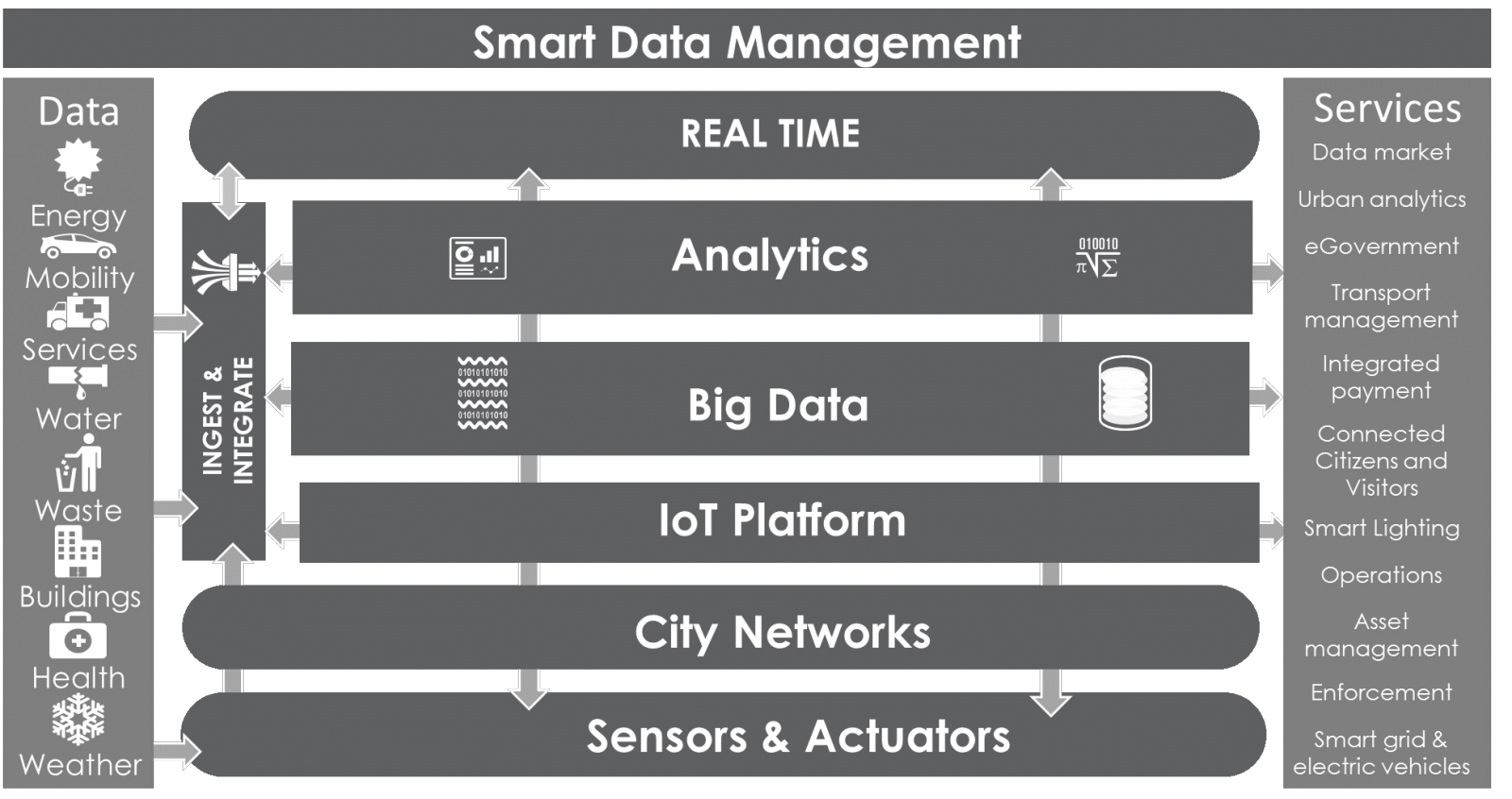 This provides a complete look at a typical smart city data management approach and shows how data is transformed to support smart city services. IRD's offerings provide a great fit for the bottom layer of "sensors and actuators" and increasingly in the "big data" and "analytics" layers. There is no question that IRD can play a significant role in smart data management approaches for smart cities.
The Power of Data
I believe that data is the new "oil" and will be a significant part of the success of a smart city. Unleashing the power of data will be an essential element in improving the quality of life in the smart city of tomorrow. IRD is well positioned to address this emerging market, help smart cities to acquire and use decision quality data, and take the opportunity to grow into this new market. IRD has developed some of the essential threads that can be incorporated into the overall fabric of a smart city. Weaving IRD's solutions into this bigger picture will address goods movement and intersection management, while also making a significant contribution to smart data management. The smart city tapestry can be a smart fabric, with the support of IRD.