How the Sensor Line Acquisition benefits IRD and our Road and Rail ITS customers

Published by
Roy Czinku - Vice President, ITS Solutions & Maintenance Services
For more than 40 years, IRD has been pushing technological boundaries in order to provide our customers with solutions that best fit their needs. IRD's recent acquisition of Sensor Line GmbH increases IRD's application range and further broadens its technological offerings to solve ITS problems.
Innovation backed by growth and acquisitions
We pioneered both the concept and the realization of Weigh-In-Motion (WIM), with the two main aims of improving vehicle safety and maximizing the value and longevity of infrastructure investments. Along the way, through innovation, we added other capabilities to our portfolio, including tire safety screening — again, with the aim of improving the safety and enhancing the efficiency of commercial vehicle operations.
Organic growth — the extension of the capabilities of the company's existing solutions — has been complemented by a keenness to stay abreast of wider trends within the traffic management/Intelligent Transportation System sector. For instance, the collection and collation of data and its management on behalf of clients through Cloud-based Data as a Service offerings — WIM and other sensor solutions within IRD's portfolio can generate huge amounts of information which is useful in real time as well as empirically.
Providing high-quality data in tight verticals forms an important part of making our mobility networks and communities safer, smarter, and better functioning. We continue to lead by broadening our knowledge and adding to our portfolio of products and solutions.
New traffic sensors and WIM for train weighing
Sensor Line provides embedded and surface-mounted fiber-optic-based traffic sensors. These are used for applications that are fully in line with IRD's core business areas, and also add closely associated capabilities such as bicycle lane monitoring and automated speed enforcement. Sensor Line significantly strengthens IRD's already comprehensive offering for road tolling. It also adds WIM capabilities for the rail market.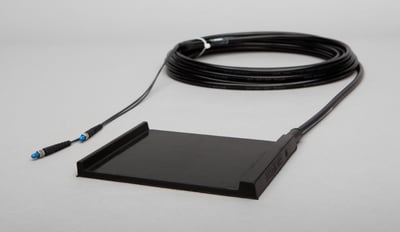 Sensor Line's Fiber Optic Rail Pad Sensor
Building on Sensor Line's record of success
Sensor Line's success stories are diverse and truly international.
In Belgium and the Netherlands, the company has provided the technology for 30 bicycle detection stations. These are located in Bruges, Gent, Antwerp, Eindhoven and Helmond. The installations use the company's specially developed TWIN sensors to provide accurate detection of bicycles with a high degree of sensitivity and accuracy. Being able to detect adult's and children's bicycles or even strollers shows how flexible and versatile Sensor Line sensors are. The technology works in all weather and light conditions, independent of the metallic content of the measured objects — an important consideration as more carbon fiber is used in bicycle construction.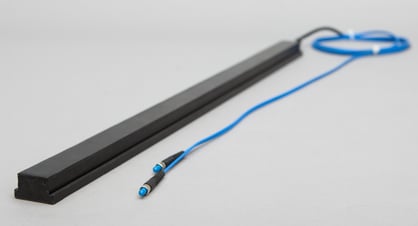 Sensor Line's SL PUR sensor is suitable for bicycle counting
In a milestone project, Sensor Line is helping the New York State Thruway to provide cashless tolling to its customers. The company's technology is used for vehicle classification at a facility used by around 267 million motorists each year — an application that requires the highest levels of accuracy and reliability. The Thruway is regarded as a key economic enabler and the move to cashless is intended to make its operation safer, greener, and less congested.
Another example is in South Africa where Sensor Line technology is used by ATOM, a company that provides maintenance support to national tolling projects in South Africa, Mozambique, and Zambia. Robust, accurate sensor solutions are essential to success in large-scale projects in trying environmental conditions and ATOM is enjoying considerable success. In Mozambique, it is a systems supplier to a national scheme operator which will eventually expand to include a total of 43 lanes.
Fiber-Optic technology offers accuracy, durability
Key differentiators of Sensor Line's systems are their very high accuracy, combined with robustness and longevity.
Fred Motzko, Sensor Line's founder, initially developed fiber-optic sensors to meet a military need for vehicle sensors that would be immune to electromagnetic impulses. This was the first use of fiber optic technology in traffic applications. Being able to provide high levels of security against electrical interference continues to be an important feature of traffic monitoring and rail WIM applications.
Sensor Line's sensors detect vehicles in road traffic for applications like axle counting, speed measurement, headway measurement, vehicle classification, and cyclist counting. The pressure of a wheel deforms the fiber-optic sensor. This deformation decreases the optical transmittance inside the sensor.
The result is a solution that has no mechanical parts, adapts readily to pavement contour, is lightweight and compact, is insensitive to lateral pressures, and provides ultra-fast readings with outstanding trigger accuracy. The absence of mechanical components reduces maintenance to an absolute minimum. Sensor Line's fiber optic traffic sensors have a very high accuracy and are outstandingly reliable.
Growth brings new opportunities for IRD and our customers
We're excited to welcome Sensor Line to the expanding IRD family. The acquisition supports IRD's continued growth in the ITS industry and supports our goal of being a leading supplier in the worldwide toll market. Sensor Line's products also adds advanced WIM products for train weighing to IRD's portfolio. This enables IRD to develop new markets, innovate together, and continue to deliver exceptional experiences for our customers, partners, and distributors globally.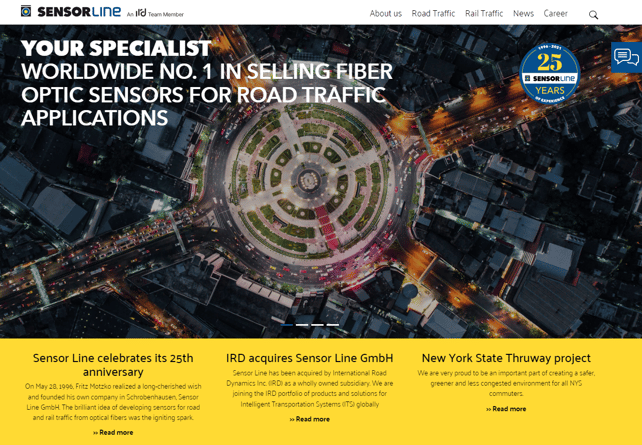 Visit the Sensor Line website (sensorline.de) to see the full line of fiber optic sensors