Icoms celebrates 30 years of innovation in the service of mobility

Published by
Cécile Bauvin - Account Manager at Icoms Detections S.A.
Established in Louvain-la-Neuve in 1993, Icoms Detections designs and manufactures radar sensors for intelligent mobility management. Its products allow for better traffic light management, count vehicles or display the speed of vehicles for preventive purposes. They are installed above ground, are energy-efficient, and operate in all weather conditions, whatever the light conditions.

Evolution and improvement
For 30 years, Icoms has been innovating and renewing its products to adapt to the evolution of traffic and mobility habits. The sensors that the company offers today do much more than detect moving cars or trucks to call a green phase when approaching a traffic light.

If the hexagonal box, emblematic of the brand, has only slightly changed, what it contains has deeply evolved. In addition to the Doppler effect, the sensors now use signal processing to simultaneously detect stationary vehicles on one or more lanes. They replace up to nine inductive loops, can be installed without civil engineering work, and consume much less energy than inductive loops or video detectors.
Introducing new detection technology
By combining radar with other detection technologies, such as Lidar, Icoms can now offer new detectors. An example is its bicycle counter that counts groups of cyclists with great precision. Traffic data collection represents a growing part of Icoms' business, whether the data is accessible locally for temporary measurement applications or via an online platform for permanent counting points.

The company has adapted to the rising share of soft mobility in traffic and the ever-growing need for high-performance, above-ground detectors that are easy and quick to install.
Our values: innovation and sustainability
The values that Icoms exemplifies today within the IRD group of companies perfectly reflect this evolution: reliability, ergonomics, and innovation at the service of sustainability. Icoms Detections is also involved in a sustainable development certification process with the Chamber of Commerce and Industry of Walloon Brabant.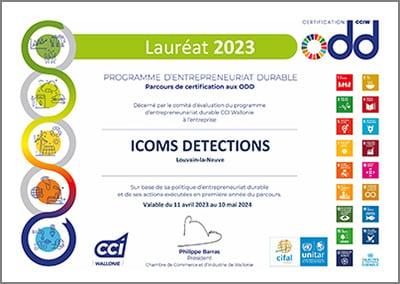 The evaluation committee validated our sustainable entrepreneurship policy and the actions we carried out in 2022 and awarded the "Laureate 2023" title to Icoms Detections. From organizing yoga sessions to reducing the amount of plastic used in packaging and implementing a policy of returning and recycling end-of-life products, these actions are concrete and contribute to the United Nations' global call to action to end poverty, protect the planet and ensure prosperity for all.