Remote Possibilities

Published by
Peter Fedechko - VP North American Sales
In North Dakota, virtual weigh station deployments supported by IRD's iSINC® technology have greatly improved the efficiency of efforts to safeguard infrastructure and road users.
In 2003, cost savings implemented by the North Dakota Highway Patrol led to a number of weigh stations being closed and reduced opening hours at several others. This presented the state's department of transportation with the challenge of how to continue to maintain infrastructure integrity and road safety. In particular, there was a need to continue to conform with federal size and weight requirements for commercial vehicles.
The State Legislature took a decision to refocus on an enforcement regime that employed more mobile technology, taking advantage of the greater flexibility offered by comparison with fixed solutions. Nevertheless, stringent criteria still had to be met in terms of systems reliability, lower cost, maintainability and, ultimately, accuracy.
At an initial four sites, that same year, a new Virtual Weigh Station (VWS) solution was implemented which added IRD's iSINC® electronics and camera technology to existing in-pavement Weigh-In-Motion (WIM) sensors. A further four sites were added in 2004.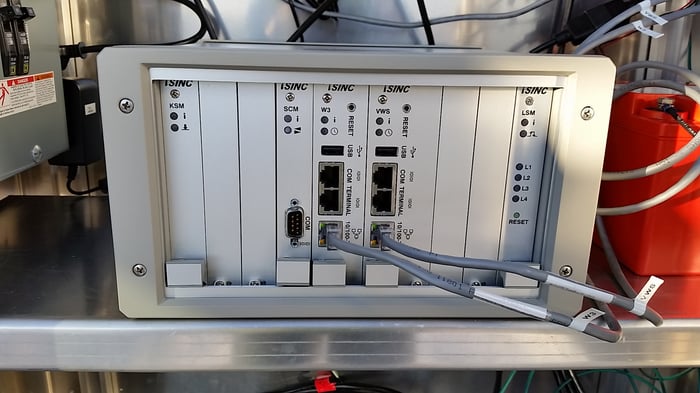 The iSINC Lite WIM Controller Powers North Dakota's VWS Systems
The electronics in iSINC® form the core of IRD's traffic and truck WIM systems. iSINC® performs a broad range of functions, from data collection and web-based traffic monitoring to weigh station automation. iSINC® can be configured to control automatic license plate reader cameras, USDOT readers, message signs, automatic vehicle identification systems, dimension sensors, and WIM scales.
Distant prospects
Terry Woehl of the North Dakota DOT's Planning and Asset Management Division says that a key aim with the new technology was to enable Highway Patrol officers to screen vehicles as they traversed VWS sites.
Being able to do that remotely has been a game-changer.
With a total area of 70,704 square miles (183,123 square kilometers), North Dakota is the 19th-largest state in the US. Its principal industry is agriculture, although it also experiences considerable heavy vehicle traffic from the Bakken Formation oil fields to the northwest. Three of the state's VWS sites are located in the Bakken region.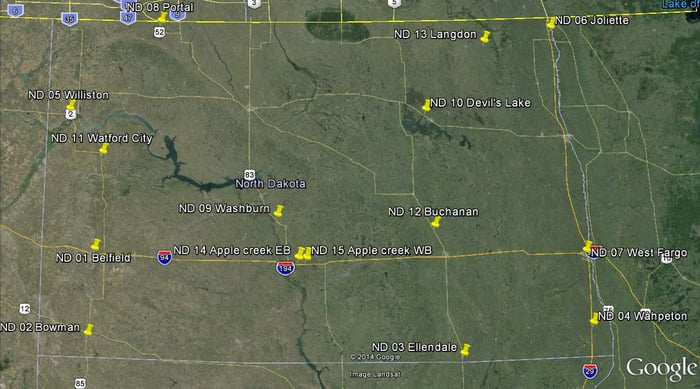 North Dakota VWS Sites (indicated by pins)
Prior to the deployment of iSINC®, Highway Patrol officers would spend hours at weight station locations waiting for overweight vehicles to inspect. This wasted a lot of man-hours. It was also relatively unproductive in terms of the number of successful outcomes.
"Previously," continues Woehl, "officers had to be either on-site or within line of sight in order to identify and apprehend vehicles that were operating illegally. That's all changed because the data provided via iSINC® is IP-addressable. That means it can be accessed from pretty much any geographic location. Officers can be 30 miles downstream from a VWS location and still be able to successfully identify those vehicles which need to be pulled off the highway for further investigation.
"We've had drivers say to us that they simply didn't see us. It adds an element of unpredictability, which encourages compliance, and makes us much more efficient. Highway patrols can now deploy resources to address the times and locations where there are the greatest risks."
The VWS systems can also help with investigations after accidents. In the event an over-height commercial vehicle collides with a bridge or overpass, officers can check the vehicle records and images in the time period just before the bridge was hit and then cross-reference them to the permit system.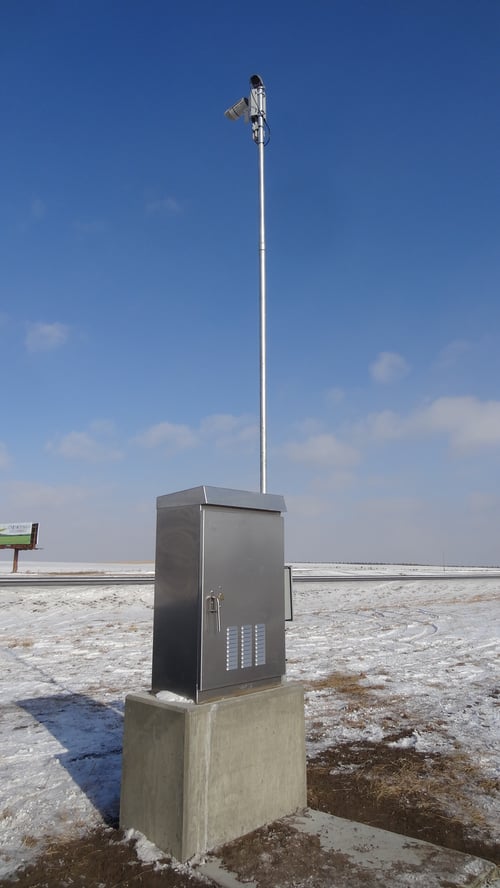 Camera and Electronics at the Apple Creek WB Site in North Dakota
Success breeds success
"When iSINC® was initially deployed, it had the potential to be the door-opener on whole new ways of working. We're happy that it's delivered on that promise," Woehl states.
"Officers particularly appreciate the information provided by the system and the way it is presented, and continually ask for more VWS sites to be opened."
Success — or, more accurately, value — can often be measured in numbers. North Dakota started with just four VWS sites in 2003. By the end of 2022, it will have increased the total to 16.