Return to Intertraffic Amsterdam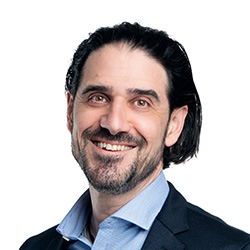 Published by
Heimo Haub - Managing Director, IRD Europe
After a four-year hiatus, Intertraffic Amsterdam provided IRD, Inc. with some very positive feedback and opportunities. Here, Heimo Haub, Managing Director of IRD EU GmbH, writes about the show and the strengths of synergies between group companies.
After a four-year gap, Intertraffic Amsterdam thundered back into life at the end of March/beginning of April. Despite some unseasonably gloomy weather, the outlook among attendees was bright and showed just how eager the ITS industry is to get back to business as usual.
There were smiles, handshakes and even hugs as people greeted each other, underlining that the industry in fact remains a relatively small one and that there are many long-standing and very close relationships.
The personal enthusiasm extended into the professional. There was a notable keenness to re-establish contracts and projects aimed at making road infrastructure work better. In many cases, fears over budgets, and a lack of money caused by furloughing and the global economy faltering, appear to be unfounded. Pandemic and lockdown have caused many customers and projects to fall behind and, as traffic levels start to rise again, the need to re-establish or maintain safety levels is very much to the fore.
Within the show halls, IRD's stand was well-positioned in terms of benefiting from this industriousness and enthusiasm. Our primary focus for the event also chimed with the mood — the establishment of IRD EU GmbH as a distinct entity at the heart of one of the world's fastest-developing ITS markets was very well-received.
We wanted to underline our dominant position in commercial vehicle enforcement, to demonstrate how we are growing in terms of capabilities and geographic influence, from Germany to Portugal and Belgium to Austria, and to cement in customers' minds that three companies — Icoms Detections, Sensor Line and VDS — are now parts of the IRD group.
Having effectively four distinct names on the stand served us very well. Visitors to see one group company fell readily into conversation with those from others, opening doors on significant new business opportunities for IRD as a whole.
Showcase products
Weigh-In-Motion remains a core product, however TACS, our solution for tire safety and anomaly detection, generated especial interest.
TACS is already in public-sector use in the Netherlands with the Rijkswaterstaat, which employs it to protect critical infrastructure and the entrances to ports/ferries against tire-related problems. However, across the rest of Europe, knowledge of the technology, and how it can be successfully combined with WIM to improve commercial vehicle safety, is rather more limited. The approaches to tunnels and toll plazas are ready opportunities for TACS and we are currently following up on this.
We showed some unique and unusual solutions for detection, classification and monitoring which attracted a lot of attention.
Sensor Line's technology, based on fiber-optics, enables axle detection, count and classification of stationary vehicles. This makes it ideal for deployment at toll plazas — useful, as tolling and distance-based road pricing are seen as essential mechanisms for infrastructure financing and to make up for dwindling fuel tax revenues as electric vehicles become more common.
GDPR has opened up more of the traffic monitoring market to Icoms Detections. We had on display a radar-based multi-lane detection and monitoring product. Currently, across the EU, some countries are uninstalling camera-based solutions in line with the right to individual privacy. The anonymity of radar, together with its 24-hour, all-weather effectiveness, provides a ready alternative for roads authorities looking to continue to operate effectively in the new, more privacy-oriented environment.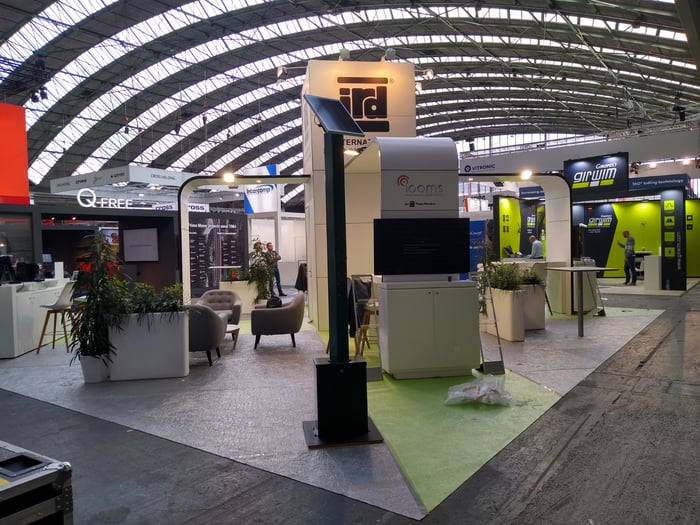 The launch of the TMA-3B3 'Totem' networked bicycle counter was well received at Intertraffic
At Intertraffic, Icoms Detections celebrated delivery in Europe of its 250th TMA-3B3 Connected Bicycle Sensor system. These LiDAR-based systems are now in use in the Netherlands, Belgium, France, Italy, Portugal and the UK, and we also unveiled the new 'Totem' version. This is fully self-contained, with its own integrated pole, which makes installation even easier on any road, street or path. Solar power means that it is energy-autonomous.
Our radar capabilities also came to the fore with VDS. Many visitors were surprised that IRD is now in the speed and red-light enforcement business. Beyond that, introducing VDS to customers outside its domestic market through the IRD group demonstrated the power of synergies and the advantages of a larger but strongly cohesive product portfolio.