Virtual Realities: Why WIM is Essential at Every Major Bridge

Published by
Tom Der - Vice President, ITS Solutions & Engineering
Virtual weigh stations provide a cost-efficient but highly dependable solution to the challenge of protecting safety-critical road infrastructure such as bridges.
Extending the life of older bridges
Protecting safety-critical infrastructure is a primary application for Weigh-In-Motion (WIM) and Virtual Weigh Station (VWS) technology. Bridges in particular need to be shielded from being habitually taken outside their design parameters because of poorly or illegally loaded commercial vehicles.
This is especially so in the case of older bridges because of increases in the allowed axle and gross vehicle weights that have occurred since their design and construction. These can result in additional concerns over already aged and sometimes under-maintained structures which have experienced high levels of use.
Making technology investments for long-term asset protection
Many roads and infrastructure operators are now realizing the true worth of technology investments in terms of highly accurate and more efficient long-term asset management and protection.
Roads authorities in New York State, for instance, have deployed IRD's WIM systems at the entrance to a number of signature bridges. These include the Mario M. Cuomo (Tappan Zee), Goethals, Verrazzano-Narrows, Bronx-Whitestone, Throgs Neck, and Robert F. Kennedy (RFK). These WIM installations supply highly accurate data by vehicle type relating to traffic journeying across the spans.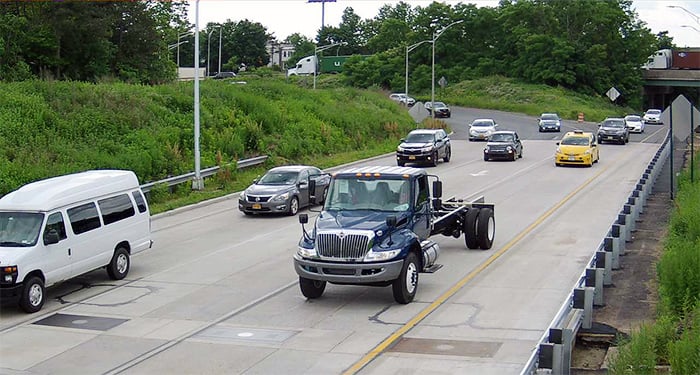 Virtual Weigh Station (VWS) site at Goethals Bridge, NY
Combining these in-pavement systems with License Plate Recognition (LPR) has enabled some of these to be used as VWS, bringing together images of overweight vehicles and the appropriate data in real time.
This always-on capability gathers information on all vehicles. It can support soft enforcement against overweight vehicles by generating information that is used post-event to inform owners and operators of their vehicles' statuses and encourage them to keep weights within the limits. It can also provide identification and overweight data for downstream enforcement, where vehicles are pulled off the road to safe areas for more detailed inspection using portable wheel-load scales.
The exact placement of the WIM/VWS solutions is dictated by road geometries and other space constraints, particularly in urban locations, but can be up- or downstream of the bridges being monitored.
Across North America and the rest of the world, there are many aging structures that, while not famous landmarks, are no less important or strategic to their transportation networks, and no less prone to damage.
Numerous bridges have failed over the years. A majority of these events have been because of extreme weather events or basal erosion, collisions, poor maintenance, inadequate design, or incorrect construction. However, some have occurred due to the sheer weight of traffic, both over time and, as a result, in the moment. These events can kill — more than enough reason for investments in safety and monitoring equipment — but they also have long-term effects on public confidence.
Laying the groundwork for direct enforcement
Static scales will always be the best determinants of the individual axle and gross vehicle weights — there are so many variables in a dynamic environment that WIM and VWS can never fully match their absolute accuracy. Nevertheless, WIM providers and the state of the art have progressed to a point where production systems are stable, accurate, and consistent enough to be certified to support citations.
As much of this has to do with correct installation as with the technology itself; the key to success is selecting a WIM partner with the requisite knowledge and experience to deliver a solution that will work in the prevailing conditions.
Measuring the impact of VWS investments
There is an upfront cost to installing WIM sensors and deploying VWS software that makes some agencies reluctant to invest in a complete, integrated solution. However, increasingly governments realize the role these systems play in protecting infrastructure, and its safe operation, by guaranteeing that the vehicles using it are road-legal.
In monetary terms, the actual cost of dependable enforcement against illegal vehicle loading is a very small percentage of the total cost of constructing a new bridge, and significantly less than the remediation cost in the event of a failure. In terms of reputation, it is priceless.