Central Data Management System for Optimizing Commercial Vehicle Operations

Published by
Michael Wieck - VP ITS Data Solutions, North America Sales
The main use of data created locally during screening operations at a weigh station is to enable e-screening at the site - i.e. to allow the commercial vehicle to pass or not to pass. A truck needs to be informed within seconds of passing a WIM scale and other sensors whether it must exit for static weighing or inspection. The weigh station operator monitors vehicle records using a locally networked computer and can override system decisions.
Historically, remote online monitoring of the operational status at a weigh station or even virtual operations making remote sorting decisions have often not been feasible. State agencies seeking to increase the efficiency of their Commercial Vehicle Operations (CVO) programs were dependent on manual monitoring and data collection. For instance, optimizing staffing at sites requires knowledge of the times of day when there is the most need for inspection. In order to acquire data to gain this knowledge, operators across a number of weigh stations would have to tally inspections by time of day and their records submitted for analysis.
This is changing: online monitoring can increasingly be performed remotely as reliable communication to a central location is becoming more and more available: either through high-speed wireless communication or using the state agency's network. This allows for monitoring of technical performance and operation of the equipment, and also monitoring of the operational performance of the system itself– how well the system is achieving its goals.
On a high level, a typical breakdown of monitoring capabilities in a centralized environment may include:
System-wide screening results
Station-specific screening results
System-wide credential alerts
System-wide operational status
System-wide operational performance
These requirements can be satisfied through a modern dashboard-oriented, cloud-hosted solution that integrates monitoring capabilities with system-wide and station-level historical reporting and data analysis, data quality checks, automated maintenance monitoring, E-Screening data management and Virtual Weigh Station integration. IRD's solution for meeting these requirements is the Central Data Management System (CDMS).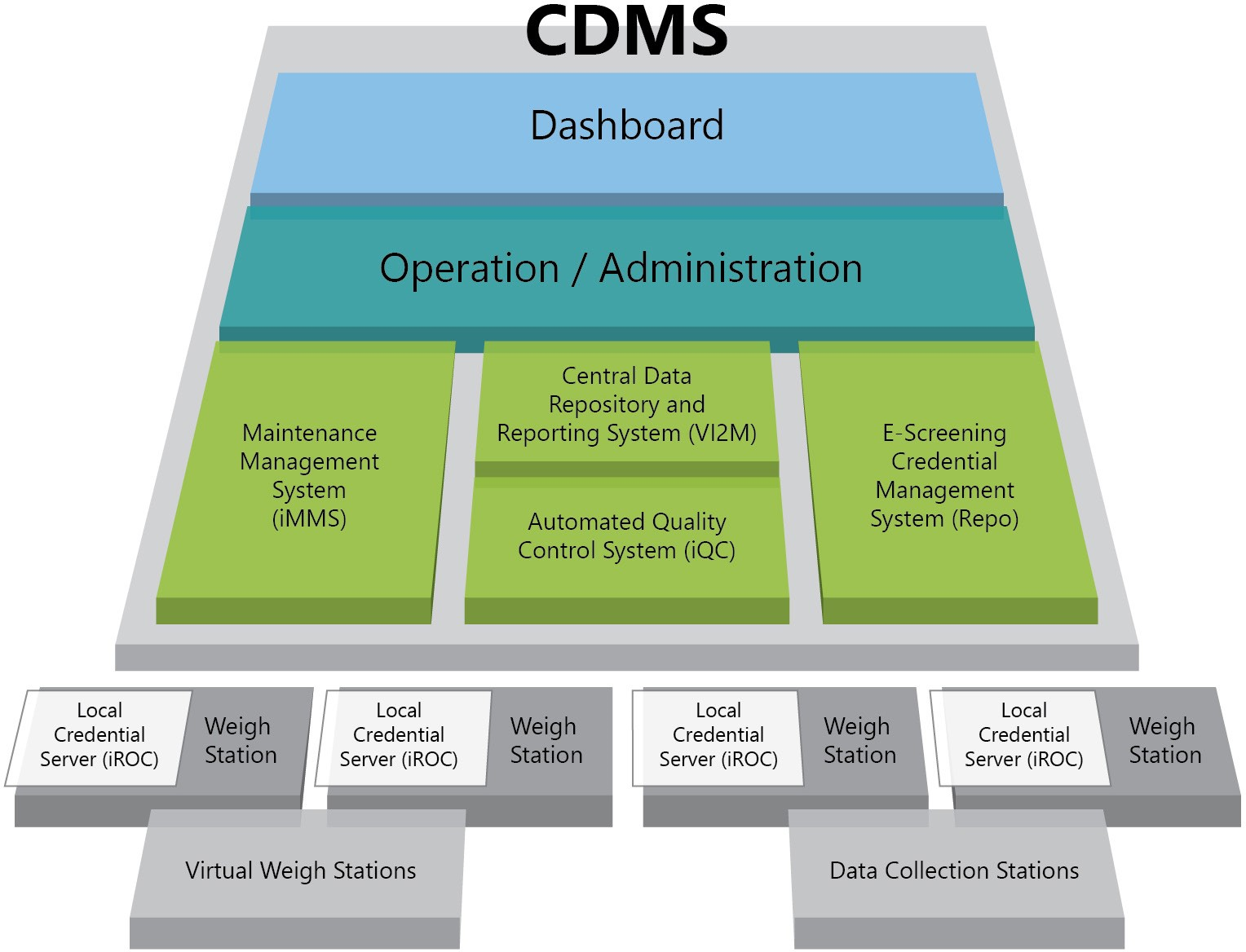 Typical CDMS Architecture
The CDMS provides, through operational, administrative and maintenance dashboards, a means of understanding, at a glance, the current operational status of the state-wide screening system, and the ability to drill down into deeper levels of details, such as the status of individual weigh stations.
The CDMS is hosted in the cloud, using a commercial Cloud Hosting Service Provider, benefiting from the built-in services for database backup and data management as well as enterprise level data security processes.
CDMS Dashboard
One key aspect of the CDMS is the Dashboard user interface. The role of the dashboard is to support program management by providing an immediate overview of operational performance, using key performance indicators (KPIs) related to operations, and to show operational or system performance trend changes without having to search for detailed information through system reports. A typical CDMS Dashboard distills data sets into simple insights using data visualizations. The Dashboard is viewed through a browser window accessing the cloud data. It provides well-structured access to the information that is most relevant to the Agency.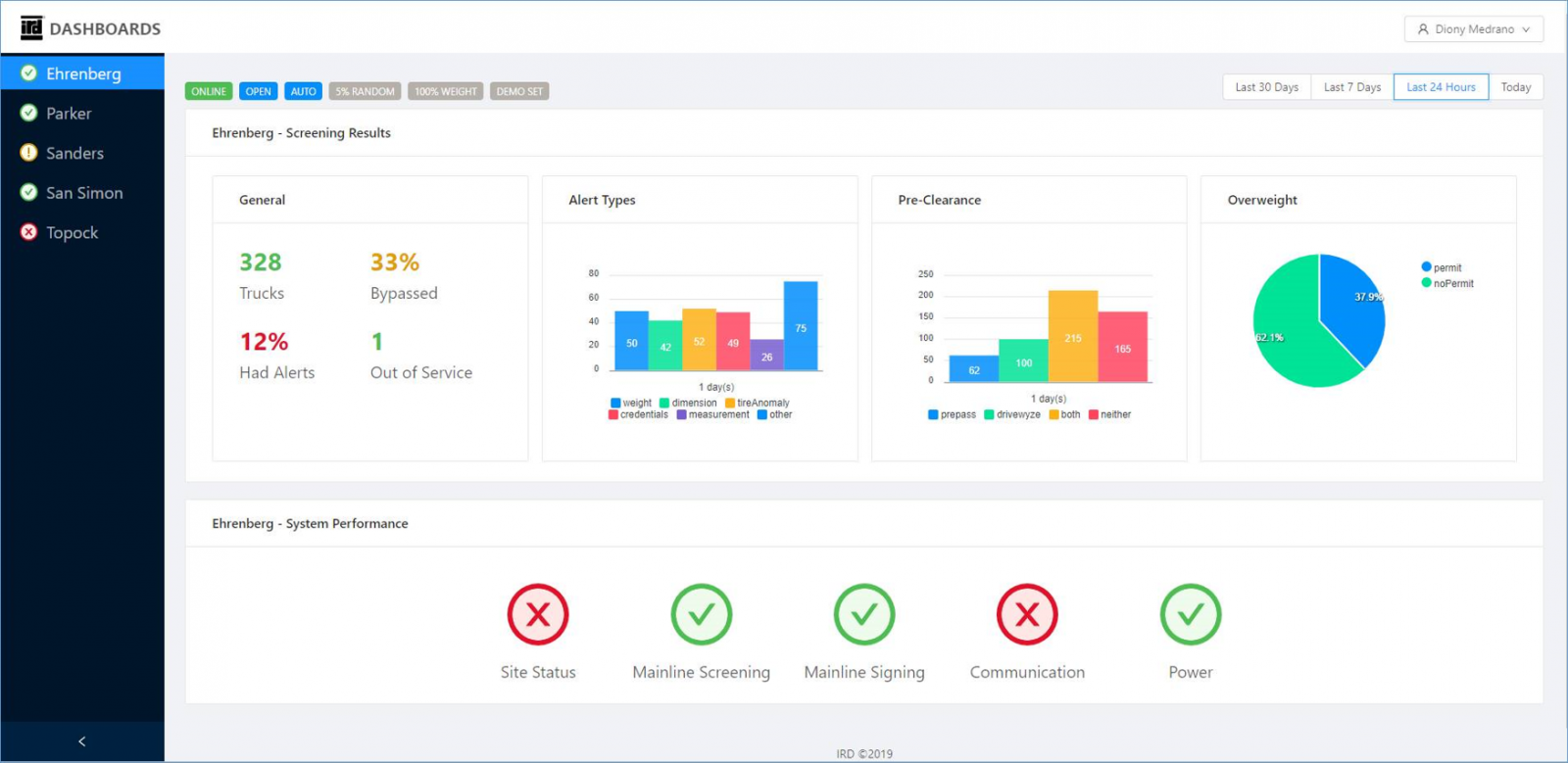 Typical CVO Operational Dashboard
Screening Results
Screening results are important on a system and a Station-specific level. Typical statistics that may be shown for a certain period (e.g. the last week or day) are:
Percentage of commercial traffic that is overweight
Percentage of uptime across the system
Count of overweight vehicles
Count of vehicles with violations
Truck ID ratio
Bypass ratio (No pre-screening/Pre-screening)
Out-of-Service count
Credential safety violations count
Overweight violations count
Operational Status
In addition to the screening results, a Central Data Management System also provides information on the system status. This allows the Agency to have an overview of how a specific Station is operating, providing a real-time view of the status, combined with short-term statistics. Typical parameters of relevance are:
Number of vehicles weighed on static scale
Weight threshold to pull in overweight vehicles
Random report threshold
Station sort setting – auto, all report, bypass
Network Status
System Performance
Another dashboard view relevant for monitoring of Station and system operations is the view of system performance. This includes information on:
Current Status of communication between the CDMS and each Compliance Station
System check visualizations summarizing the health of major system components
Reports
Data collected from the Compliance Stations is stored in a cloud-based centralized data repository. This data repository allows the Agency to run historical data reports and perform data analytics functions. As an example, the following table shows the potential fines at a specific weigh station based on overweight trucks that passed during the times the station was closed.


Potential Fines Based on Overweight Citations
The End Goal: Helping Managers Effectively Manage Their Operations
More than ever, managers of compliance systems have to ensure that their systems provide value for their investment. Implementing a CDMS ensures that the overall system can be easily monitored at a high level for optimization across multiple stations to achieve the agency's objectives. Seamless integration with other IRD weigh station applications including the real-time operator display software, Virtual Weigh Station software, VI2M™ data reporting software, and iMMS™ Maintenance Management System makes the CDMS a valuable add-on for any CVO program.