Commercial Vehicle Traffic Movement: The Regina Bypass Project

Published by
Rod Klashinsky - ITS Solutions Advisor
IRD supplied six Commercial Vehicle Virtual Weigh Stations (VWS) also known as Pre-Screening Stations (PSS) on the Regina Bypass. The purpose of the Virtual Weigh Stations is to provide the Saskatchewan Ministry of Highways and Infrastructure (MHI) with vehicle records for enforcement, traffic surveillance and data collection applications.
Substantially completed in 2019, the Regina Bypass is the largest transportation infrastructure project ever undertaken in the province of Saskatchewan, Canada. The goals of the project were to improve transportation of goods in and out of the province's capital city while also improving highway safety.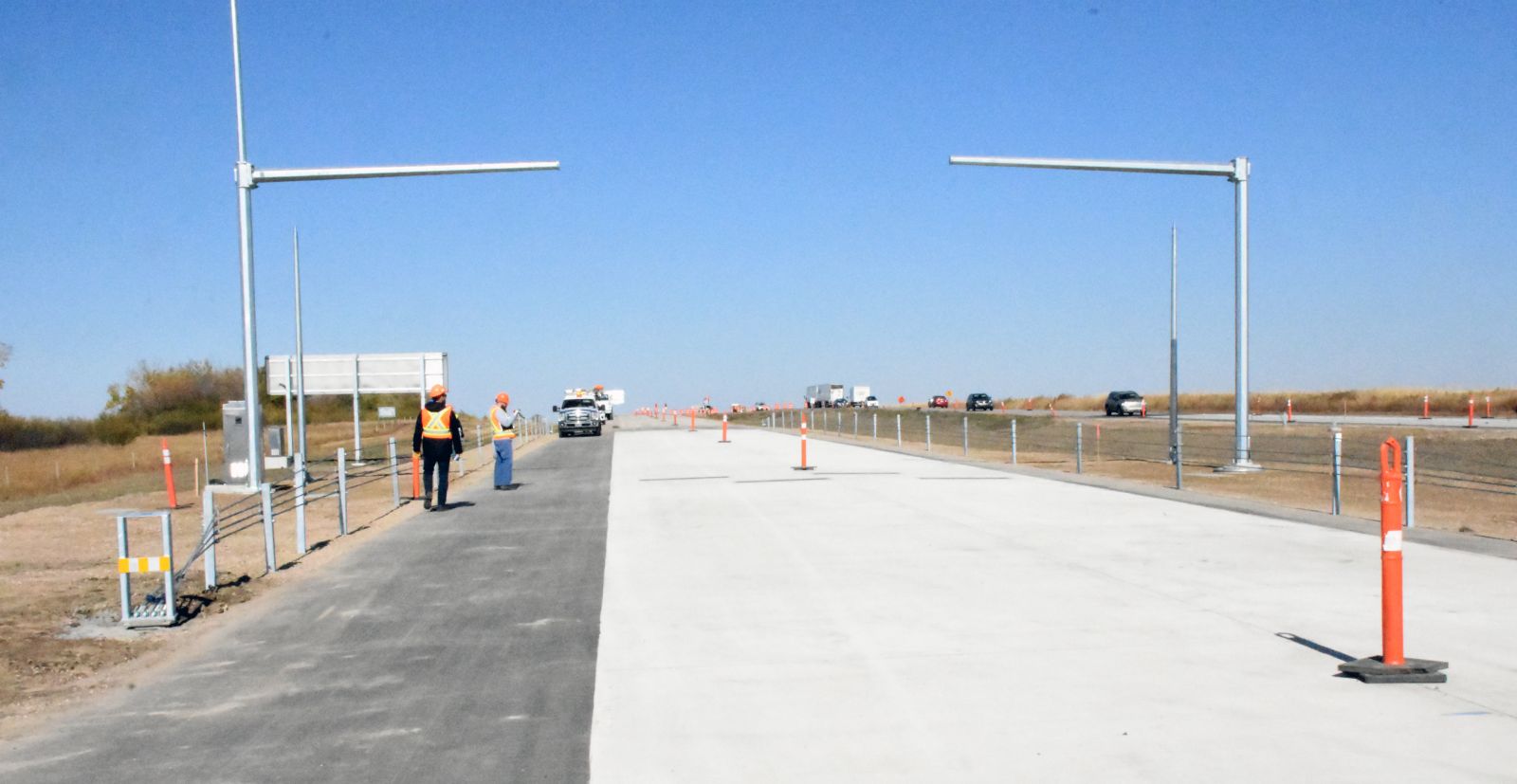 The Regina Bypass Project is the first transport infrastructure project to be completed in a public-private partnership (P3) in Saskatchewan. The project consists of the design and build of the Bypass and 30 years of operation, maintenance and rehabilitation. In October 2049, the entire Bypass will be handed over to the province having been well maintained to ensure it will meet remaining service-life requirements.
Objectives of the Regina Bypass Project
Mitigate congestion arising from the growing commuter traffic
Improve safety on Highway 1 East and Victoria Avenue
Divert large truck traffic from Regina
Construction of overpasses at Balgonie, White City, Pilot Butte and Tower Road
Eliminate key transportation bottlenecks while creating an efficient traffic flow on Hwy 1
Provide better access to Regina, the Global Transportation Hub, Hwy 6 and Hwy 11
How the System Works
IRD's technology automatically weighs vehicles as they drive through the stations. The Virtual Weigh Stations classify vehicles based on weight and axle spacing and determine when vehicles are in violation of regulations. The stations create records of commercial vehicles, and provide a display of these records through a web application. The VWS components include Weigh-In-Motion (WIM) sensors, Virtual Weigh Station (VWS) Software, iSINC® roadside electronics, image capture cameras, and License Plate Readers (LPR). The vehicle records can be accessed through the VWS software using standard web browsers.
Commercial Vehicle Pre-Screening
IRD's systems are compatible with other MHI Commercial Vehicle Pre-Screening sites. The user interface, and the data communications format provided, is consistent with previously installed MHI sites, facilitating integration of the new sites with the current enforcement and monitoring environment.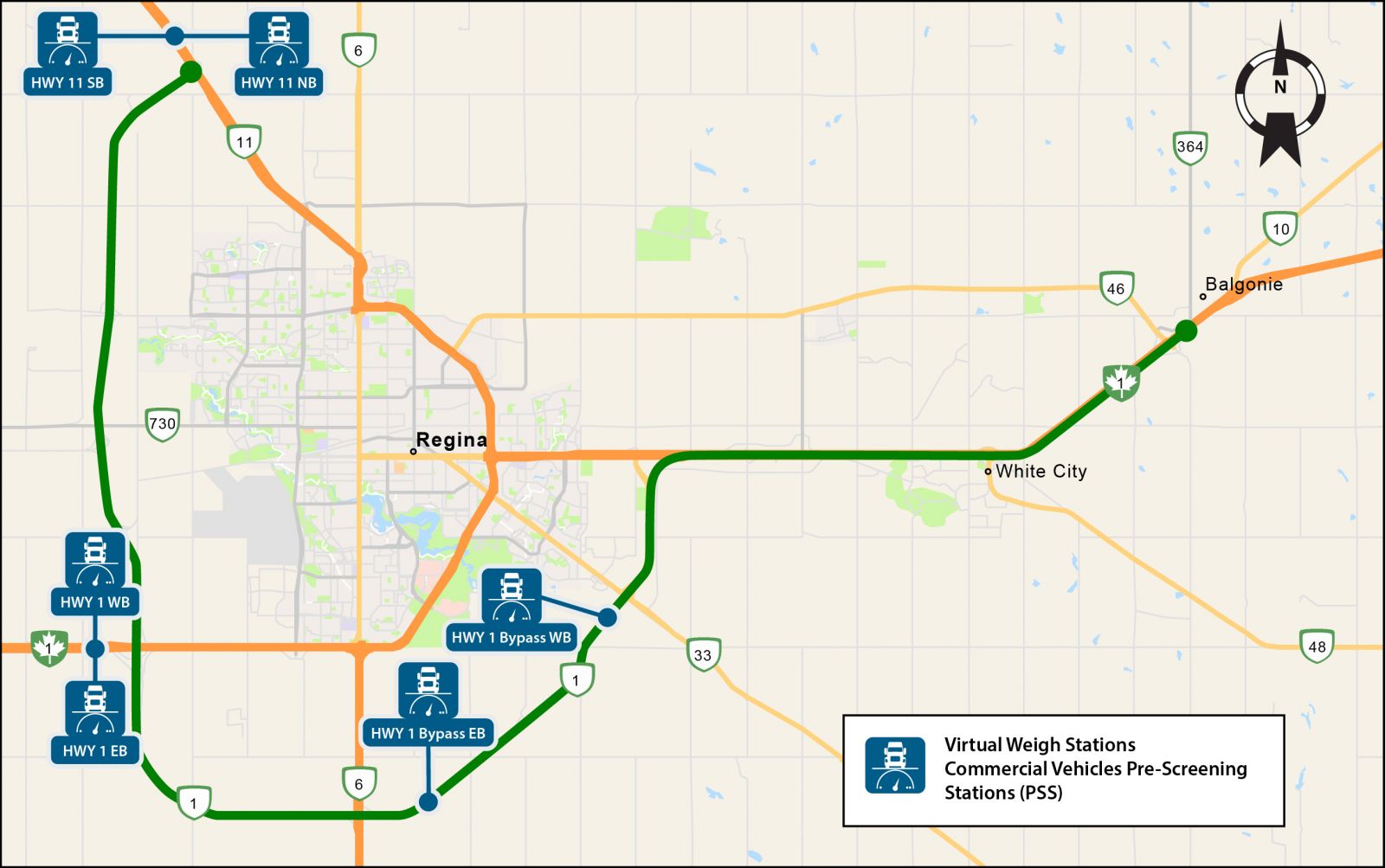 Virtual Weigh Station Locations (Pre-Screening Stations) on the Regina Bypass
The use of Virtual Weigh Stations benefits the Ministry, the trucking industry, and the general public in many ways, including:
Monitoring and enforcement of commercial traffic without the infrastructure costs for the construction, maintenance and operation of a permanent static scale weigh station
More efficient use of enforcement staff by focusing on those vehicles that are more likely to be in violation of regulations
Protection of pavement against premature damage due to overweight vehicles
Better identification of potential violators, leading to more efficient enforcement
Frees resources to focus on safety issues
Traffic Data
Data from the Virtual Weigh Stations is stored on a server for future analysis. Real-time data (speed, vehicle type and frequency) is sent to the DMC data hub which can be accessed in real time by enforcement officers and MHI operations.
The Saskatchewan Highway Patrol uses the weight data to do targeted enforcement for overweight vehicles. A real-time monitoring feature assists with efforts to mitigate congestion arising from increasing commuter traffic. Historical data is used to confirm that the bypass is facilitating effective traffic flow and that commercial vehicles are taking this route. Other data collected, such as the speeds and types of vehicles, helps the Commercial Vehicle Enforcement (CVE) staff and MHI engineers and planners see how the traffic is flowing, develop safety measures, and improve future road designs.
Vehicle Records in Historical View
Historical data for Commercial Vehicle Enforcement is available to view using the VWS software linked to the Data Collection Repository, while other traffic reports may be generated using IRD's iAnalyze® reporting software.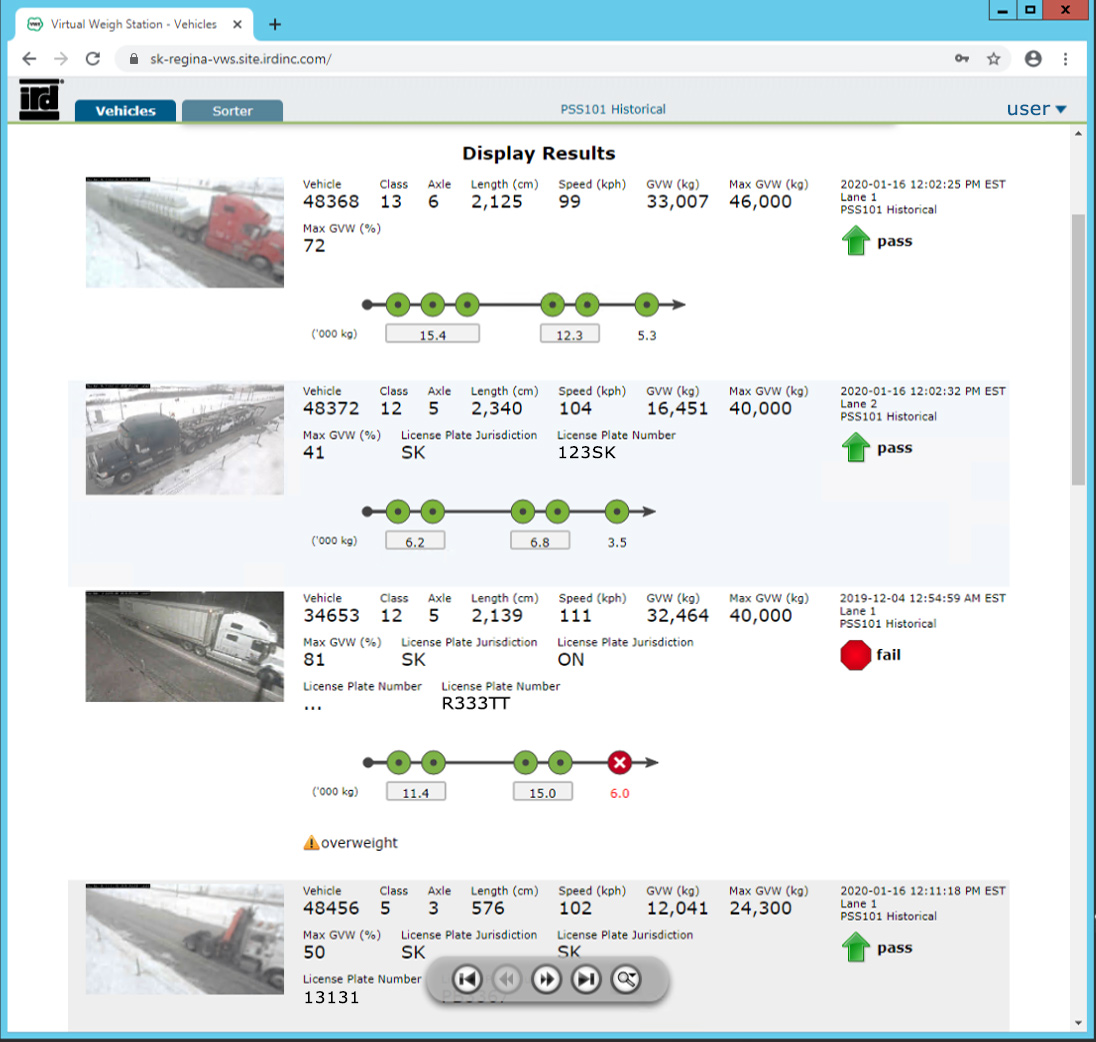 Virtual Weigh Station Historical View